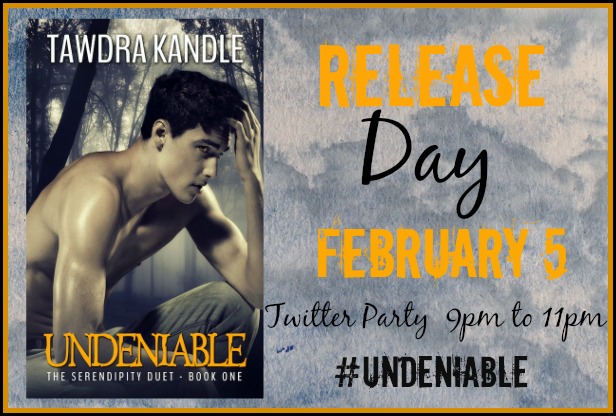 Available NOW on Amazon, Barnes and Noble, Smashwords. . .UNDENIABLE, The Serendipity Duet Book One.
If you read The King Series and fell in love with Rafe Brooks, the bad boy who tried to steal Tasmyn's heart. . .here's the story you've been waiting to read. What happened after graduation? How did Rafe get over Tasmyn?
**********************
For Rafe Brooks, running from a broken heart means losing himself in alcohol and women. Lots of women, none of whom will remember him, since he has the ability to manipulate their minds and make them forget.
Numbing the pain works until he meets an irresistible redhead with secrets of her own. She offers him the opportunity to join forces with an organization that will use his powers for good rather than his own amusement.
Jocelyn rocks his world with her unapologetic passion and makes him believe for the first time he just might survive heartbreak.
When a mission takes the two of them undercover to infiltrate a commune with suspicious activity, they discover it's just the tip of a plot to cause world-wide anarchy. Hiding their extraordinary powers and real identities is crucial to staying alive.
For Rafe and Jocelyn, when life is uncertain, love is undeniable.
Buy UNDENIABLE on Amazon/Barnes and Noble/Smashwords!
Come join our Twitter party tonight!
Wednesday, February 5th 9PM EST
#Undeniable
Prizes, chat and more. . .
Guest Post
My World View
Don't get antsy, this isn't a post about politics or religion. This is about my literal world view. . .what I see as I write. The view from my desk.
I never really had an office until this past fall. I wrote in my recliner, in bed, or wherever my computer could be hooked up. I never thought I needed a dedicated office, until after we moved last year, at which point I realized I had stuff in all different places, but nothing organized.
So eventually, thanks to my daughter Cate, we carved out a little space for me in the passageway that runs between the kitchen and the living room. Up until then, it had been filled with storage boxes. But we culled and threw away and gave away, and here I am.
My little desk is a hand-me-down from my husband, but it works for me. Right now, immediately post-book writing and in the midst of promotion and release, it's a mess. I can't even describe the mess. There're notes of things I need to accomplish, travel plans that must be confirmed and reminders galore. And then three of The King Series books are here from when I was making sure the dates and actions of Undeniable jived with those in earlier books.
Also on my desk is my Sheldon Cooper bobble head, a gift from my children, and Spike and Angel action figures dressed in Hawaiian shirts—a gift from my sister. I have a few family pictures scattered around, and a bowl made out of an old record album my daughter made me.
On the wall to my left are maps. I love to travel, and these maps remind me of where I've been and where I want to go. Right now, the three up are Belfast, London and Savannah.
The wall in front of me is filled with what makes up my life. There's a cross given to me by a dear friend, along with a bagpipe air freshner. A picture of Pikachu my son drew has a place of honor. All my medals from the various races I ran when my knees could still take it are hanging up alongside my author badges from conferences and meetings.
And then there are reader reminders: notes from people who read my books and have written to me, drawing from a few younger fans. Love those!
Now that I look at it, I should probably stop here and clean my desk. Straighten up my office.
Or I could just start the next book.
♥~~♥~~♥~~♥~~♥~~♥~~♥
♥Please feel free to leave your comments and opinions♥
♥I enjoy hearing feedback from my fellow bloggers & readers!♥